---
IMCMC 2022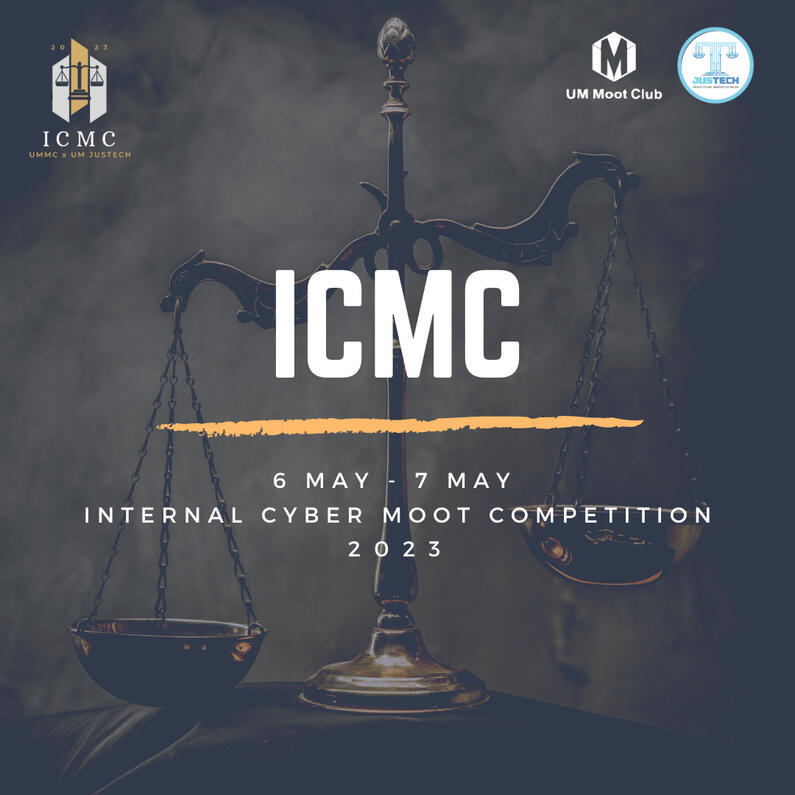 [REGISTRATION FOR INTERNAL CYBER MOOT COMPETITION (ICMC) 2023]Dear members of the faculty,The UM Moot Club and UM JusTech would like to announce that the Internal Cyber Moot Competition (ICMC) 2023, will be held physically from 6th to 7th May 2023, at the Faculty of Law, Universiti Malaya.The competition aims to develop a useful platform as a stepping stone for law students to start their journey in mooting. Hence, those who have never participated in any moot competition are more than welcome to join!This form will be used for registration purposes and applicants shall note that:- Interested participants are reminded to gather a team of 2 to 4 members, in which a team shall consist of at least 2 members.- Only one person from a team is to register on behalf of the whole team.- Registration fee of RM50 per team.- Withdrawal without any justifiable reason will result to forfeiture of registration fee paid.-The senior members who wish to participate this competition may check the rules & regulations document beforehand.The deadline of registration is on 9th April 2023 (11.59 pm) and the application form may be accessed through this link: https://docs.google.com/forms/d/16ZI3oSzthNj2Geo4Fop3pzj7KeTD9iTB0JkIMOMShWU/edit?pli=1Attached below is the link to the relevant documents for ICMC 2023 including the moot problem, rules and regulations and tentative: https://drive.google.com/drive/folders/1jq51kUFHbo90IltJaRosJD-e3qHFtNZi?usp=sharingShould there be any enquiries, please do not hesitate to drop us a message on our social media or leave us an email at [email protected].Taking no chances means wasting your dream. Challenge yourself, sign up now!#ThroughDifficultiesToGreaterHeights
---
MOOT SELECTION
[EXPRESSION OF INTEREST - TAYLOR'S INTERVARSITY MOOTING COMPETITION 2022]Dear members of the faculty,This form is for the purpose to determine the interests of students to participate in the Taylor's Intervarsity Mooting Competition 2022. Details of this moot competition are as follows:Date: 15th to 17th April 2022
Platform: ZOOM
Team composition: 2 people per team
Registration fee: RM100IMPORTANT: This competition is a self-funded competition but reimbursement from the faculty is a possible option.Do note that it is COMPULSORY for students who are interested to join this competition to fill in this form. You may register individually or as a team. Each team may only have a maximum of 2 participants. The deadline to register is 12th March 2022 (1700).If you prefer to register as a team (2 members per team), only one team member is required to fill in this form.For further information and updates pertaining to this competition, students may visit Taylor's Mooting Society social media accounts.#ThroughDifficultiesToGreaterHeights
---
FREQUENTLY ASKED QUESTIONS
1. What does UM Moot Club do?
UM Moot Club focuses on promoting and facilitating moot activities in the faculty through organizing moot-related events such as the annual Route to Moot workshop, the Internal Moot Competition, as well as collaborations with a number of mooting competition organizers.We are also in charge of providing administrative assistance in any moot-related affairs in the faculty, including but not limited to coordinating students' participation in competitions, assisting in reimbursement of registration fees, collecting students' express of interest on moot competitions, etc. You are welcomed to reach out to us for any enquiries regarding moot competitions and other law-related competitions!2. How can I become a member of UM Moot Club?3. What should I do if I want to join a moot competition?
Students may refer to UM Moot Club's website to see if there are ongoing selections for moot competitions. Apart from that, if students find a mooting competition that has not been publicised by UM Moot Club, they may direct an email to us as well as the faculty if they are interested to join.4. Is there any requirements to join a moot competition?5. What is the difference between faculty funded and self-funded competitions?
Faculty funded competitions are competitions which are funded by the faculty, whereby the faculty will pay for main expenses incurred during the duration of participation such as registration fees and etc.Self-funded competitions are competitions where students are required to fund any expenses incurred while participating which are not limited to registration fees and others.6. Will mooting help us in the working field?
Yes! In more than one way, mooting assists in the sense that it teaches mooters a multitude of skills. Ranging from research skills to speaking skills, mooting harnesses and sharpens our efficiency as an all rounded student.7. Is the preparation for mooting difficult?
While the preparation of mooting may be daunting, it is the process that mooters end up cherishing! Preparation is done months prior to ensure all teams have sufficient time to be well-equipped when the competition arrives.8. What are the procedures after being selected for a moot competition?
Students will receive an email pertaining to their success in making it to the teams. From this point onwards, they will begin prepping for competitions by conducting research and having training sessions.9. Can I register for a moot competition in my own capacity?
At this point of time, students are not allowed to participate in mooting competitions in their own capacity. This includes law-related competitions (further explained in our notice section) as they must first send a formal enquiry to UM Moot Club and the Faculty informing us of their interest to join, where UM Moot Club will assist students in any processes from that point onwards.10. Can I get a refund for self-funded competitions?
Refunds are not guaranteed and are subject to whether the students have succeeded in obtaining approval for their proposed budget to the faculty prior to the commencement of the competition. Students must follow the application procedure stipulated below:1. Send a letter to the Dean through the Deputy Dean (Undergraduate Degree) for application of activity and funding approval. Include an estimate of expenses (if any) and also an Activity Proposal (KKP) for the purpose of review and approval.
2. Subject to the Dean's approval, a letter of approval for the activity funding will be issued by the Faculty. This letter will be used for the purpose of claims upon the completion of the activity.
3. Subsequently, a claim can be made to the Faculty by enclosing the Activity Report, Financial Reports and Activity/Financial Approval Letter.11. Will there be training provided for Self-Funded Competitions?
No, currently no training is provided for non-listed and self-funded competitions. Mooters may however find their own source of training or outsource training.12. Do international mooting competitions fulfill the outbound requirement?
Yes, international mooting competitions fulfil both the mooting and outbound requirements at once.